Dental Crown San Carlos CA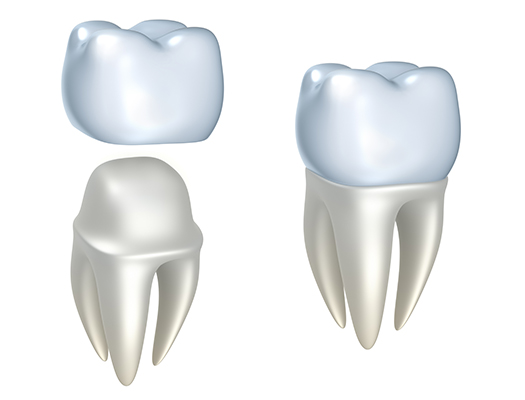 As teeth undergo wear and tear, issues such as decay, fractures, or discoloration can occur. While treatments like dental fillings can address minor concerns, there are instances where a more robust solution is required. This is where dental crowns come into play. While they can sometimes serve a functional purpose, they also play a significant role in cosmetic dentistry. At Frank Hsu, D.D.S., our goal is to preserve your natural smile and restore the integrity of your teeth using state-of-the-art dental crowns. For those exploring the option of dental crowns, our experienced team is here to guide you.


Deciphering Dental Crowns

Dental crowns, often referred to as caps, are tailor-made coverings placed over a compromised tooth. Made from sturdy materials like porcelain, ceramic, or metal, they are designed to reinstate the original shape, size, and strength of the tooth. Not only do they bolster weakened teeth, but they also enhance the appearance of teeth, ensuring a seamless and natural look. Whether your tooth is weakened due to decay, has a large filling, or is discolored, our crown dentist in San Carlos is equipped to rejuvenate your dental aesthetics with the right crown.


The Journey To Acquiring a Dental Crown

The process of receiving a dental crown commences with an exhaustive evaluation at our clinic. X-rays and other diagnostic tools are employed to study the root of the tooth and the bone around it. There are instances where a root canal may be essential before placing a crown, especially if there is pronounced decay or an infection threat. Our dentist will guide you through this decision, ensuring optimal tooth health.

After the evaluation, our dentist preps the tooth and takes an accurate mold, which serves as a blueprint for the dental crown. A temporary crown is often affixed to shield the tooth while the permanent crown is being crafted. At your next visit, this interim crown will be replaced with the final, meticulously designed dental crown. It is cemented in place, ensuring stability and a flawless appearance. At our practice, every crown is meticulously matched to the natural shade of your adjacent teeth, promising a harmonious and beautiful result.


Caring for Your New Crown

Maintaining a dental crown is not much different from caring for your natural teeth. Regular brushing and flossing, especially around the crowned tooth, are paramount to avert plaque accumulation. It is worth noting that while the crown cannot decay, the underlying tooth can. Consequently, maintaining oral hygiene is pivotal.

Hard foods and candies should be consumed with caution to guarantee the longevity of the crown. Although crowns, especially those made of porcelain, are stain-resistant, limiting the intake of stain-inducing beverages like coffee or red wine is recommended.

Routine dental check-ups are indispensable. During these visits, our crown dentist in San Carlos will inspect the condition of the crown, ensuring it is stable and functioning as intended. When cared for correctly, a dental crown can last upwards of 15 years, sometimes even longer.

To reinstate the vibrancy and strength of your smile, consider a dental crown in San Carlos, CA. Contact Frank Hsu, D.D.S. today at 650.262.1940 to book an appointment with our proficient team.

Our office is proud to also offer same day crowns!